DEPOSIT
Guaranteed deposit at the time of booking.
There may be certain tours and arrangements which will require a higher deposit. The exact amount will be advised at the time of booking.
BALANCE OF PAYMENT:
A guaranteed balance of payment is required three (3) days prior to departure.
If the balance is not paid by the stipulated date, the right is reserved to cancel the booking(s) without further notice and without refund of deposit.
CANCELLATIONS:
Cancellations received prior to the final payment date will be allowed for a full-refundable deposit.
After the final balance is paid, the following cancellation schedule will apply:
Reservations are held with cash, traveller's checks, or a major credit card. We HIGHLY recommend making a reservation. Many tourists have spent a lot of money and vacation time only to arrive in Kelowna and find that we have no space available for the time they are here. We are a small business in a small city – we do not overbook. Please make your reservations early. We are unable to reserve tours, excursions, or places on a boat until we receive full payment in advance. Reservations are taken on a first-come, first-served basis.
When you make a reservation with us, it's a reservation. That means this is a contractual commitment to both yourself and our company. If you book a group, boat, theme-tour, scuba dive, fishing excursion, whatever, we will tell other people inquiring for your dates "Not Available." It's 100% guaranteed. For that reason, any cancellations within 48 hours (forfeiture of deposit or full payment if fully paid in advance). 48 hours or more prior to excursion date – 100% refund and also NO SHOWS, NO REFUND.

If we feel that conditions are not safe due to wind, lightning, or the forecast calling for an 80% chance of rain, we may have to cancel the tour with options for another day that is available. Note: Our boats are pretty well equipped in cases where we might have some rain showers. The Harris pontoon has a full enclosure and Serendipity has a pretty decent extendable roof. If we don't have availability, or you can not do another day, we then offer a gift card for the full amount that does not expire and is fully transferable. Note that customers can cancel a tour as long as it's outside of the 48-hour window of your departure time. 
If you purchased the cancellation policy then that window for cancellation is 2 hours.
Here is a photo of the Harris with the tent and Serendipity with the roof.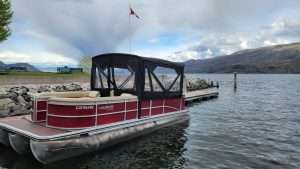 The most common and easy way of reserving your tour(s) is by calling our office at 250-859-4187 and using your Visa or Mastercard. You can also use our extremely safe and secure "Book-Now" feature on our website. It is Norton Secured and verified by VeriSign and we respond right away with your confirmation, It's that simple.
We are open 7 days a week and open on holidays.
Kelowna is the "Gem of British Columbia" and we look forward to making your vacation the best ever!