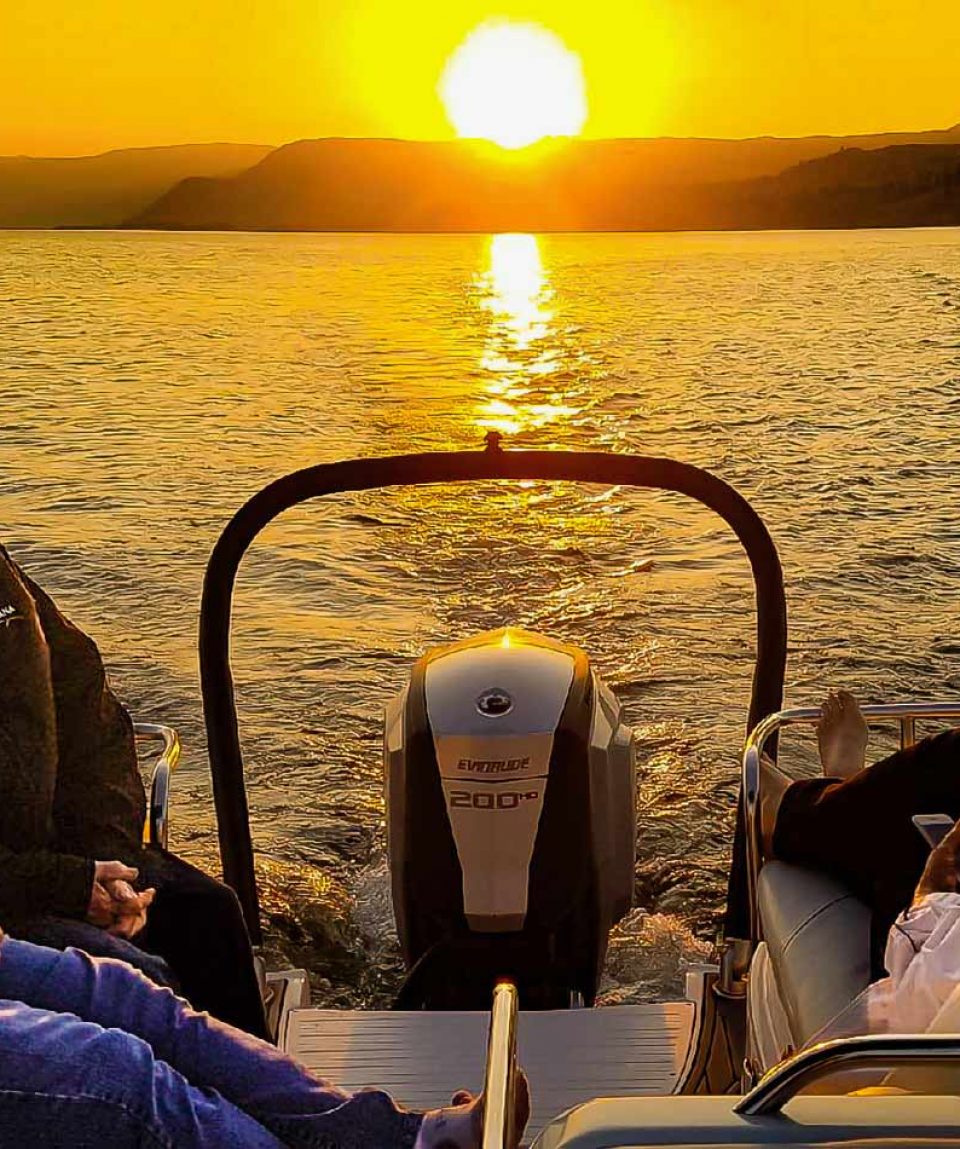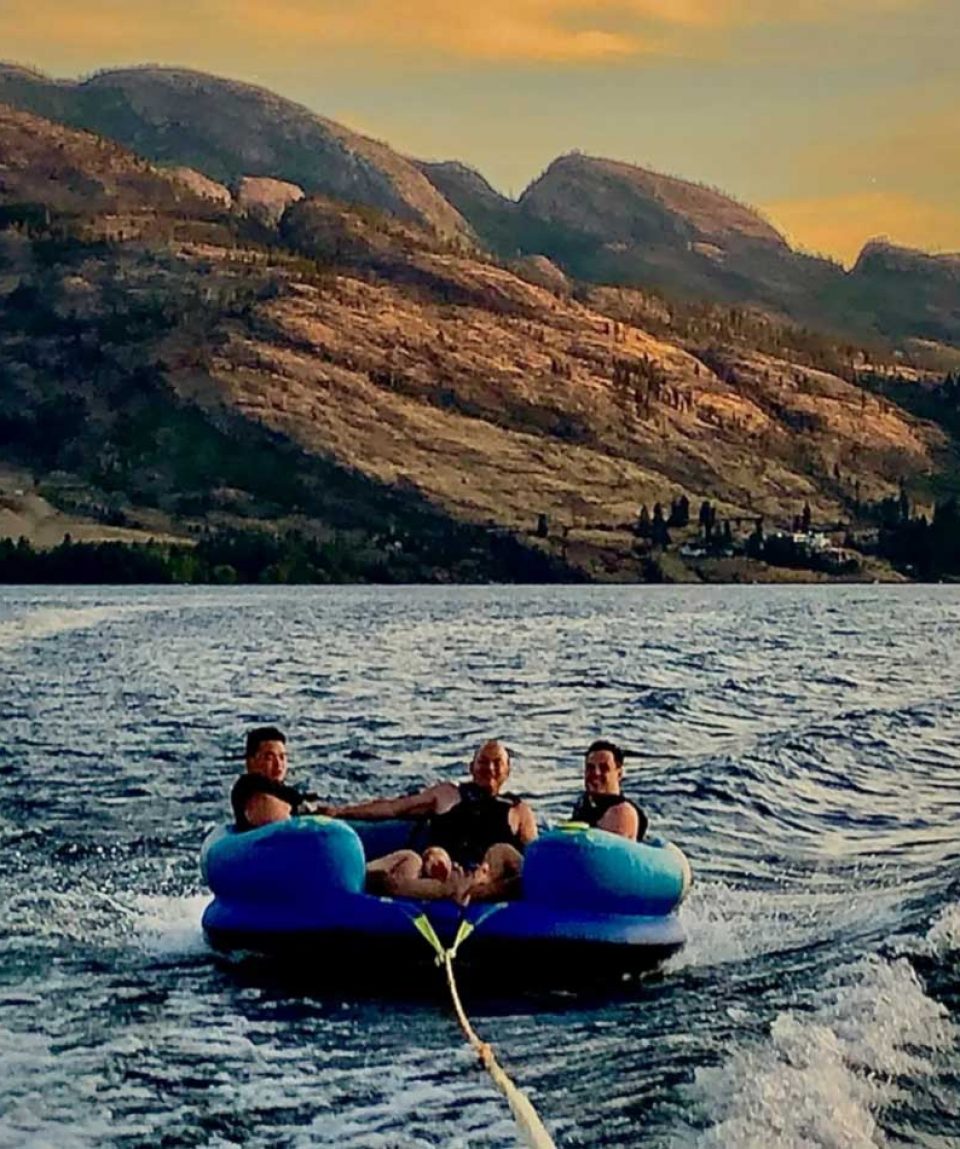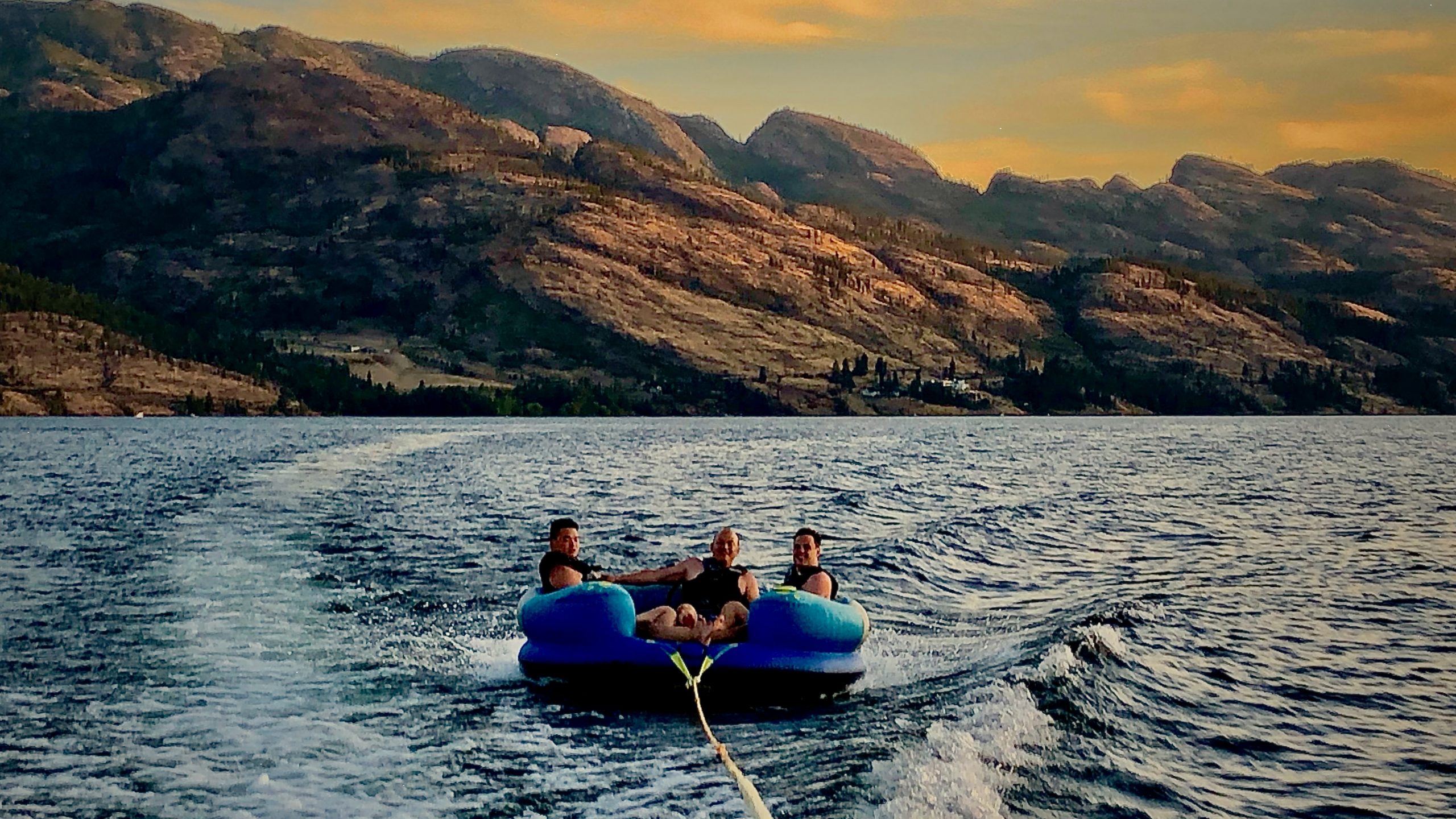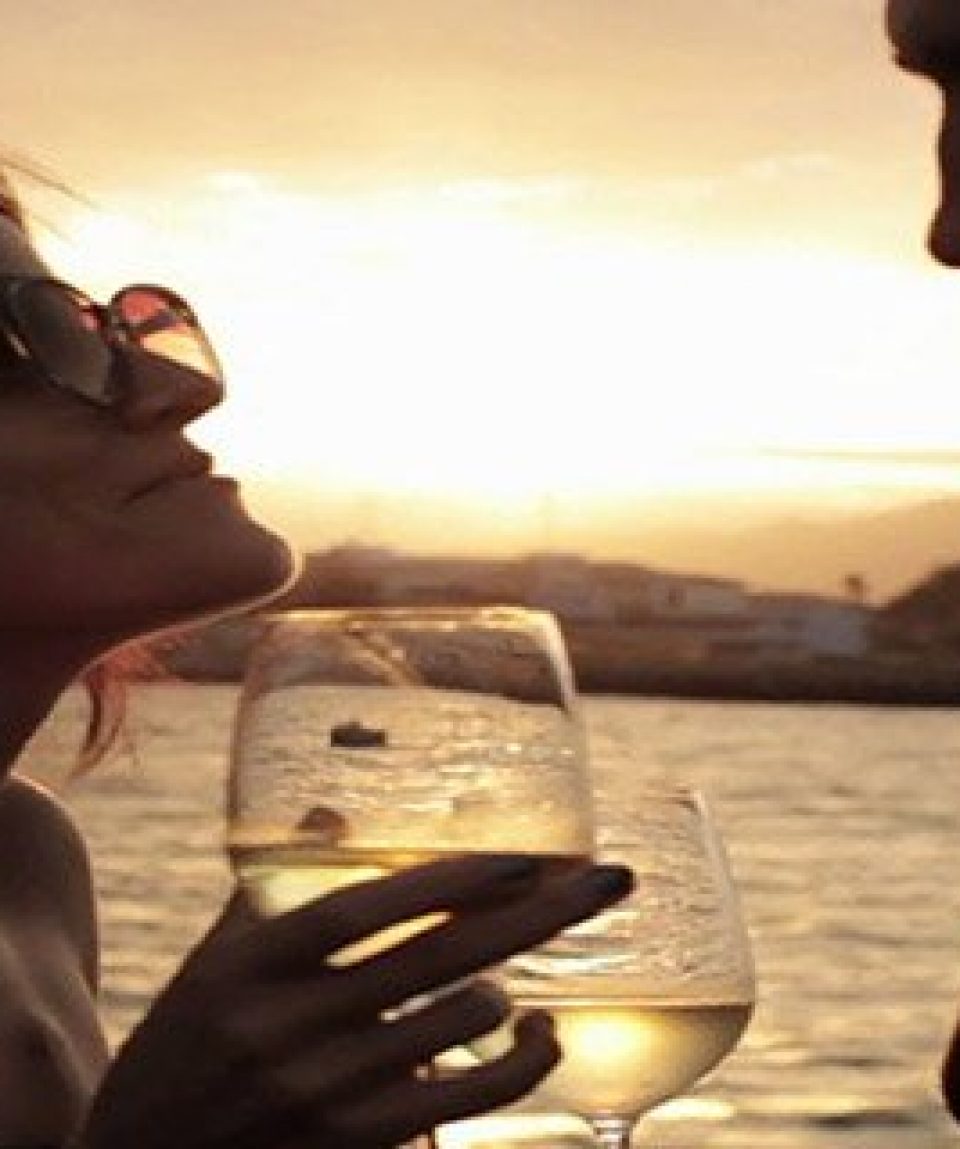 An Okanagan Sunset Cruise
From: $400.00 $400.00
TWO FREE PASSENGERS!
COUPLES SPECIAL!
Your Personal Private Charter
The specifics;
---
Price –  $400.00 for the first 2 passengers 3,4,5 and 6 are $35.00  each and passengers 7 and 8 are FREE!
Passengers –  Up to 8 passengers max (covid19 regulations) normally max 10. Children 7 years or younger are free.
Times –  Average departure is 6:30 pm depending on the time of the year, this time can vary from 5:30 pm in spring and 6:30 early summer , and 730 pm in late summer/fall, available time slots are displayed when booking your reservation and it will be followed up with a phone call for a more detailed departure time. If you require a customized tour time, please email, text or phone us, happy to try to make something that works.
Water Activity Time Allowed – Cruise Only but tubing can be purchased at the checkout as an option
Fuel Charges – None, fuel included
Meeting Location – The boat launch docks at the Hotel Eldorado shown below, we also offer a pick-up and drop-off service at any of the locations in our Dock Locator in the main menu.
---

What to expect?
The TWO HOUR SUNSET CRUISE experience is for people who want to search out for those special moments in life that you will not forget…this is one of those moments …unforgettable sunsets while in the middle of a magical and mystical Lake Okanagan. This tour allows HALF of the charters time for water activities (1 hour).
The first half of the tour we like to cross the lake and cruise the western shoreline of the lake and then pause and float in Green Bay where we can soak up the gorgeous views of Quails Gate Vineyards, Mission Hills Estates and The Hatch along with all the multi-million dollar beach homes. The last half of the tour we follow the sunset across the 2 mile stretch of lake to the eastern shoreline, during this time is when you get front row seats to watch one of the best sunsets in Canada, if not the world. Once across we stop and float for a bit in front of Cedar Creek Estates Vineyards to take it all in while you can enjoying a glass of wine. From there we head back to the dock at the Hotel Eldorado where we started from to drop you off.
Create your booking
Vacation Style

Holiday Type

Enough of the Covid!, Fun in the sun!, Just glad to getaway!

Activity Level

2 - Relaxing but goes by fast

min 4 max 8 extra guests $35.00
All about the An Okanagan Sunset Cruise.
Your personal Private Charter – An Okanagan Sunset Cruise
This two hour cruise starts off with a gentle scenic ride by the bridge and by the beaches. We then settle in for a relaxing float to watch the valleys amazing sunset. Enjoy some music, cool off in the water, have some snacks and enjoy some wine.
We can also cater a onboard diner for that romantic and special day!
Contact us to explore the possibilities, or hear how our suggestions can blend with what you would like to do.
The specifics;
Times – 6pm to 8pm
Meeting Location – Manteo Bay Marina
What to bring – Towels, sunscreen, Sunglasses, Camera, Your choice of bevies.
Includes – Captain, Fuel, Plastic wine glasses, Bottled Water and Snacks
PRICES START AT A SPECIAL PRICE OF JUST $400.00  including fuel
(Prices are listed for the first 4 guests)
The tour package inclusions and exclusions at a glance
What is included in this tour?
Items that are included in the cost of tour price.
This unique cruise includes the main necessities, feel free to bring a few drinks, or a bottle of wine, we are legal to drink on.
Captain
Fuel
Plastic wine glasses
Bottled Water
Snacks
Fresh Blankets if required
What is not included in this tour?
Items that are not included in the cost of tour price.
Transportation is not included in this tour, however if you wish, or plan on having a few drinks, we can provide a professional  PICK-UP / DROP-OFF service.
Towels
Liquors, beers and bottled beverages
Photography accessories like cameras etc.