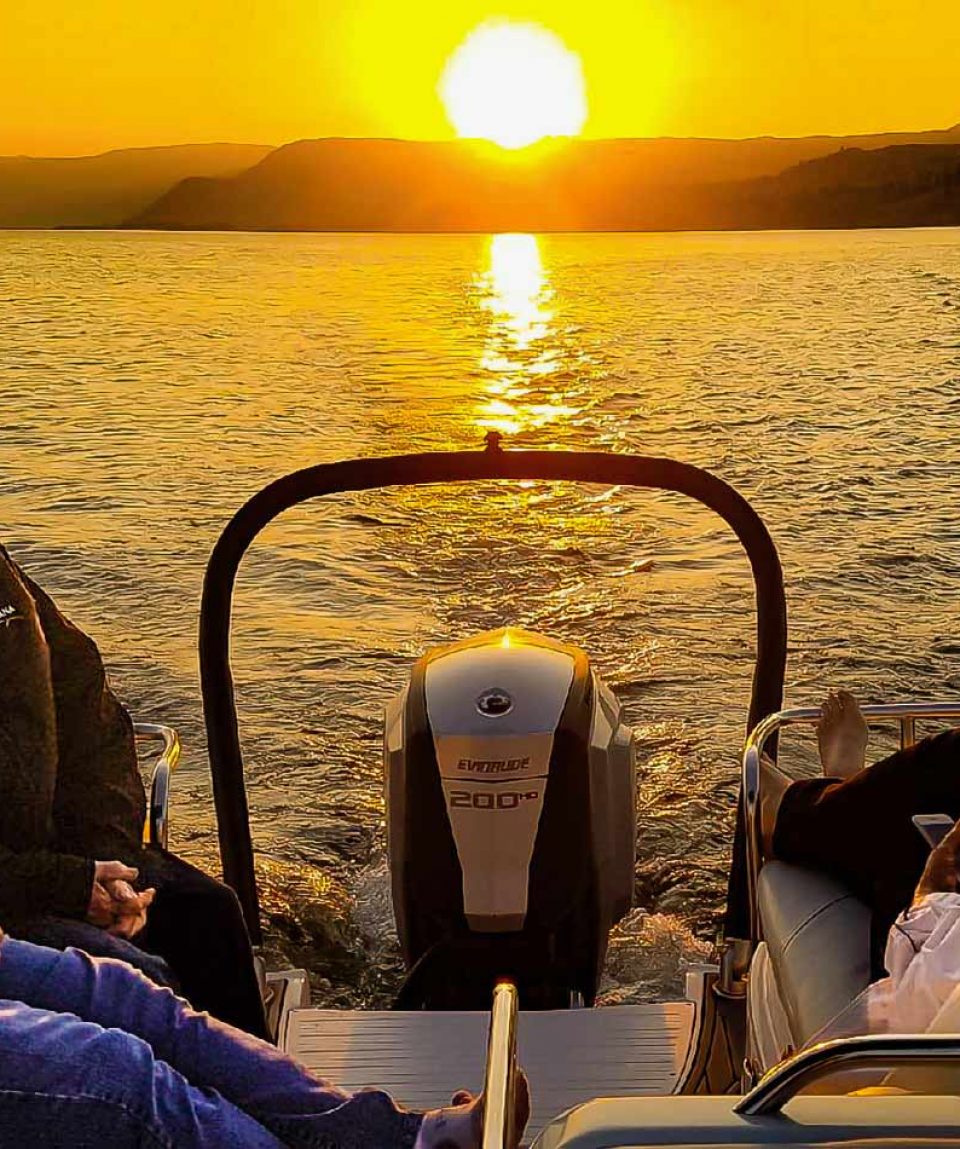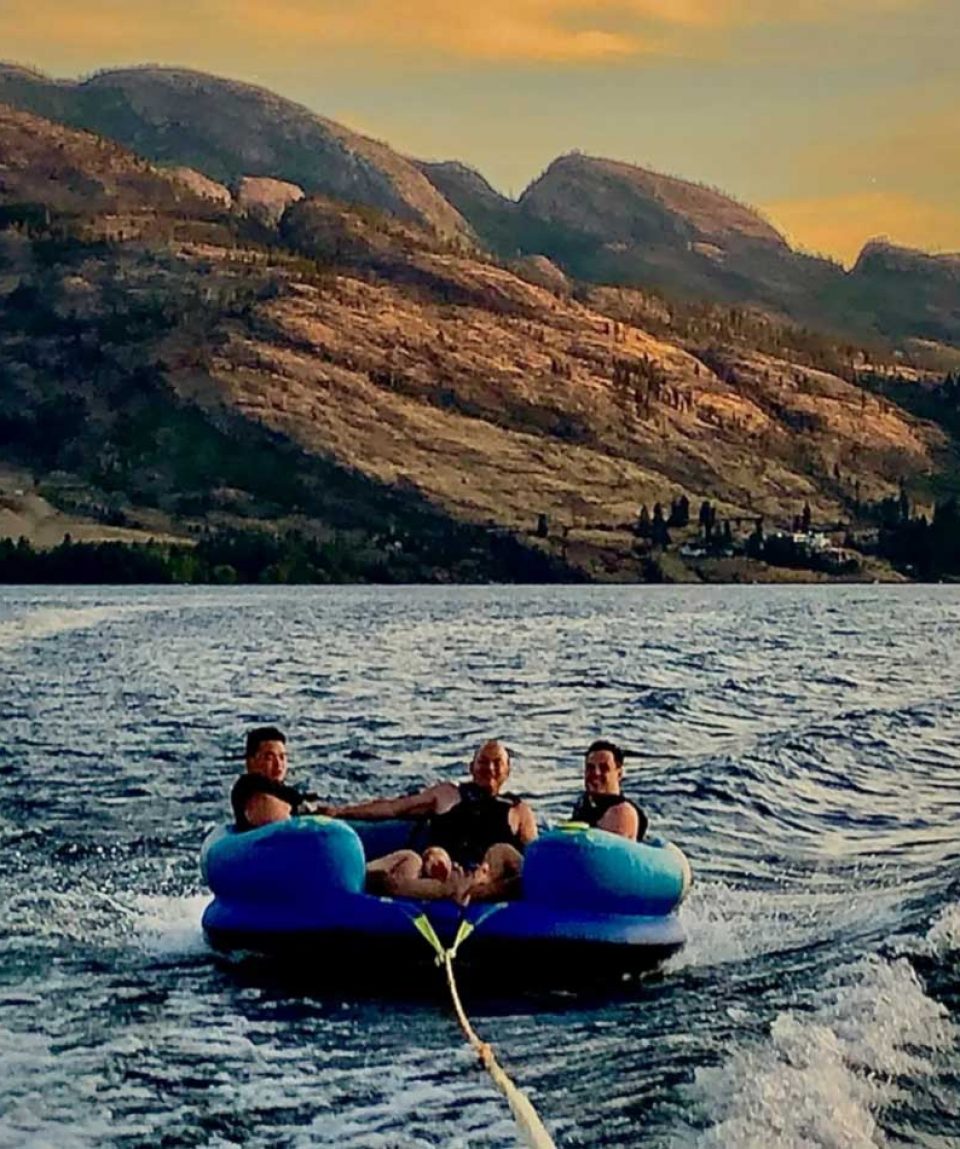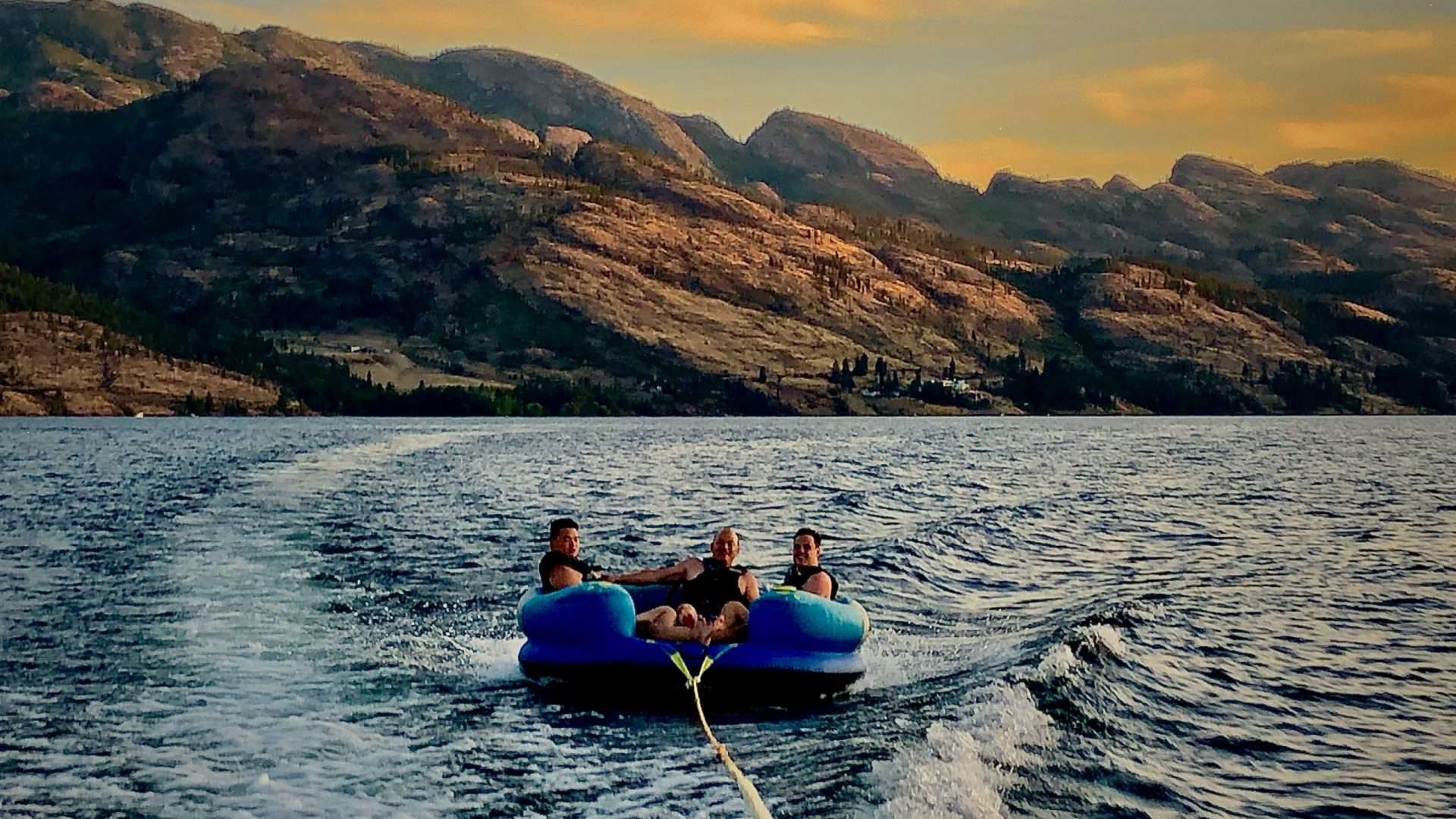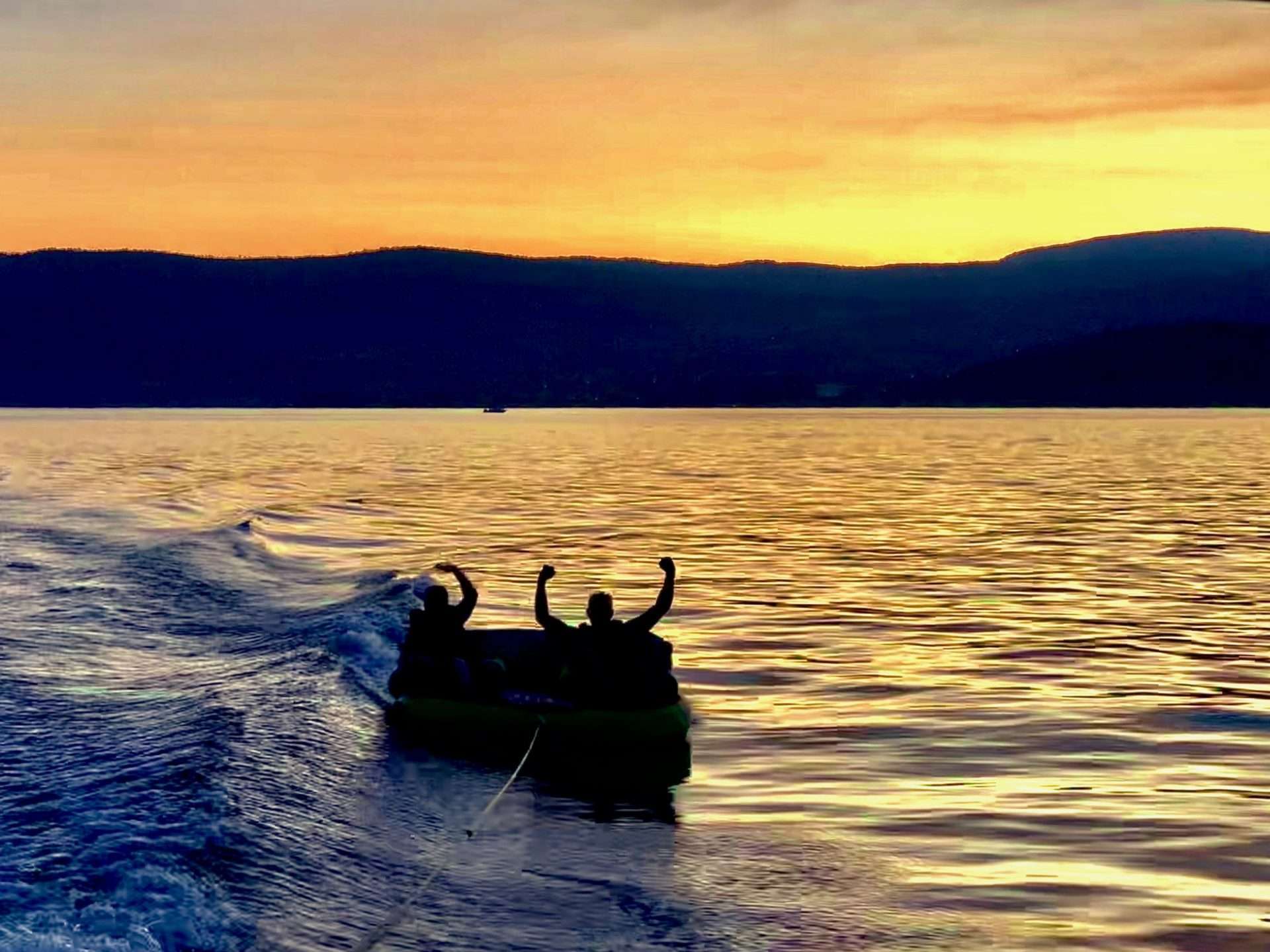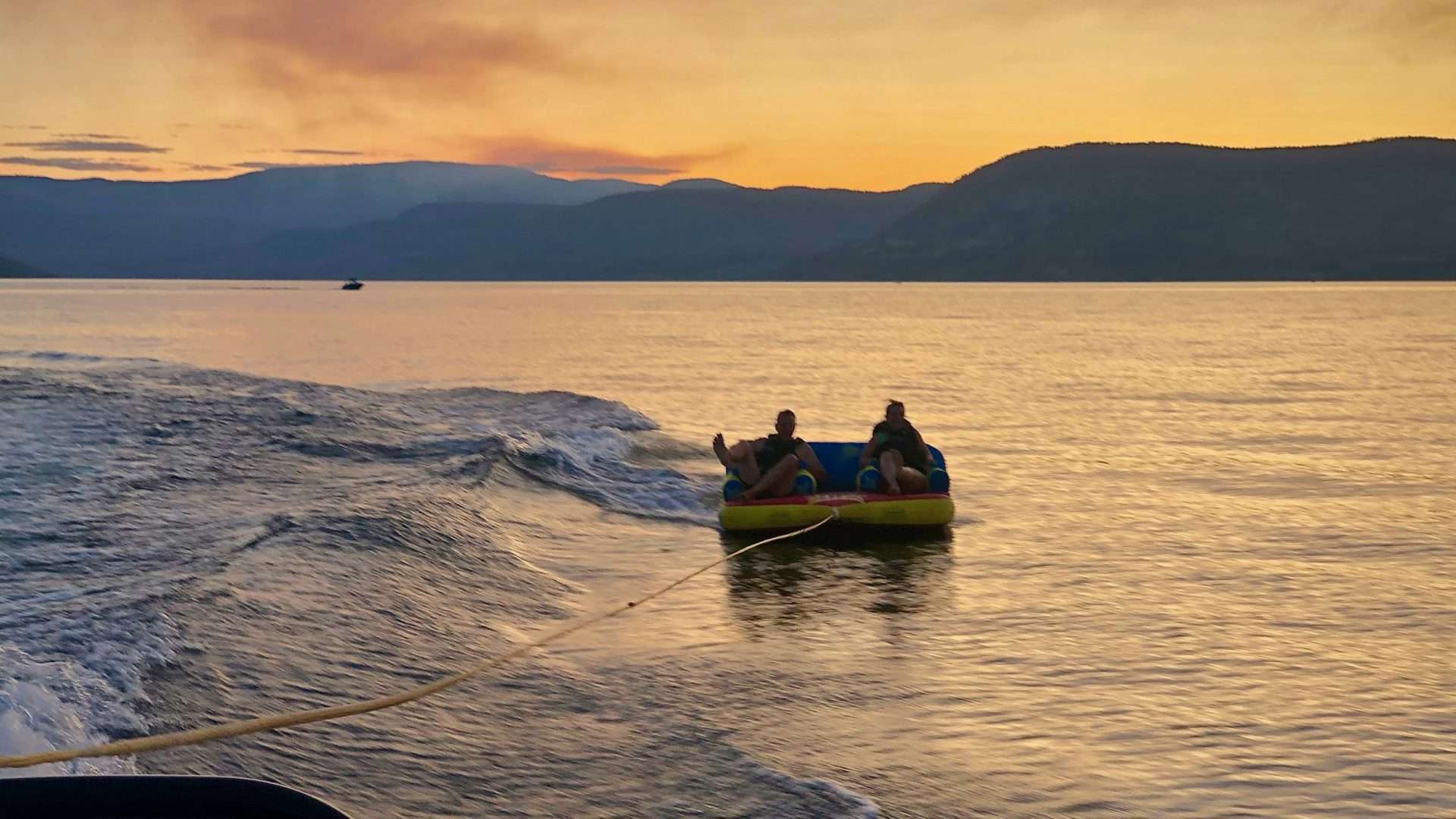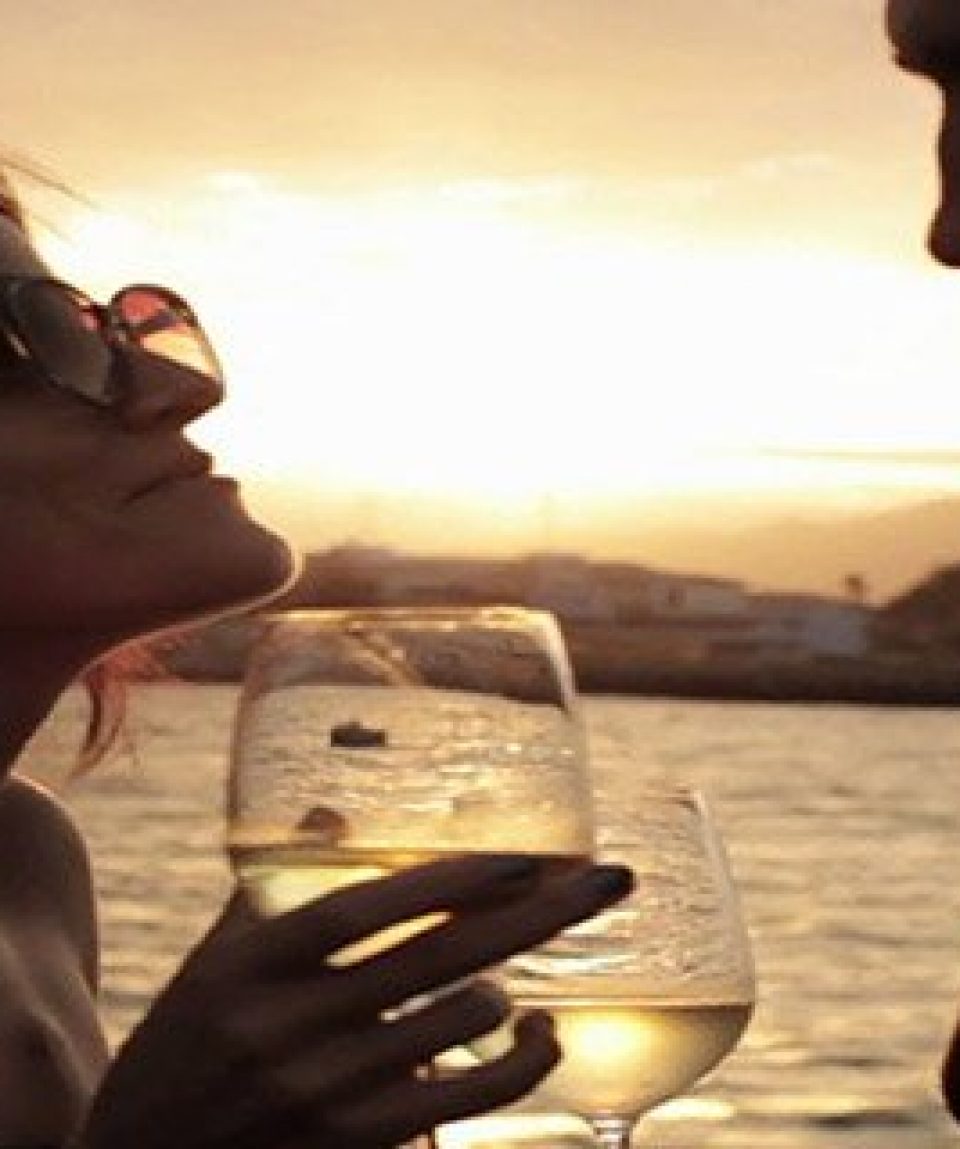 An Okanagan Sunset Cruise
From: $450.00 $450.00
TWO FREE PASSENGERS!
COUPLES SPECIAL!
Your Personal Private Charter
The specifics;
---
Price –  $450.00 for the first 2 passengers 3,4,5 and 6 are $50.00  each and passengers 7 and 8 are FREE!
Passengers –  Up to 10 passengers max. Children 7 years or younger are free.
Times –  Our schedule for the 2023 season is as follows but times are tentative and will be confirmed by email after your order has been recieved;
May 1st to June 16 departures at 5:00 pm
June 17 to July 16 – departures at 5:30 pm
July 17 to August 18 – departures at 6:00 pm
Aug 19 to Close – Departures at 5:30 pm
If you require a customized tour, please email, text or phone us, happy to try to make something that works.
Tubing Options/Upgrades and Swimming – Tubing Add-Ons and Upgrades are available during the booking process and of course, swimming is always allowed and encouraged!
Fuel Charges – None, fuel included
Meeting Location – Dock pickup location will be assigned and is based on the address that you leave during the checkout phase of your booking. You will be notified shortly after completing your booking with an email confirmation of the location of the dock.
---
What to expect?
The TWO HOUR SUNSET CRUISE experience is for people who want to search out for those special moments in life that you will not forget…this is one of those moments …unforgettable sunsets while in the middle of a magical and mystical Lake Okanagan. This tour allows HALF of the charters time for water activities (1 hour).
A typical tour could include the William Bennet Floating Bridge and north to downtown, beach mansions of Lower and Upper Mission, views of Quails Gate Vineyards and Gellatly Bay. If you have something you would like to see, please make a recommendation in our "special requests" section in your booking
Create your booking
Reviews 0 Reviews

0/5

Vacation Style Holiday Type

Enough of the Covid!, Fun in the sun!, Just glad to getaway!

Activity Level 2 - Relaxing but goes by fast

Group Size Medium Group

min 2 max 10 extra guests $35.00
All about the An Okanagan Sunset Cruise.
Your personal Private Charter – An Okanagan Sunset Cruise
This two hour cruise starts off with a gentle scenic ride by the bridge and by the beaches. We then settle in for a relaxing float to watch the valleys amazing sunset. Enjoy some music, cool off in the water, have some snacks and enjoy some wine.
We can also cater a onboard diner for that romantic and special day!
Contact us to explore the possibilities, or hear how our suggestions can blend with what you would like to do.
The specifics;
Times – see schedule above
Meeting Location – 
What to bring – Towels, sunscreen, Sunglasses, Camera, Your choice of bevies.
Includes – Captain, Fuel, Plastic wine glasses, Bottled Water and Snacks
PRICES START AT A SPECIAL PRICE OF JUST $450.00  including fuel
(Prices are listed for the first 4 guests)
The tour package inclusions and exclusions at a glance
What is included in this tour?
Items that are included in the cost of tour price.
This unique cruise includes the main necessities, feel free to bring a few drinks, or a bottle of wine, we are legal to drink on.
Captain
Fuel
Plastic wine glasses
Bottled Water
Snacks
Fresh Blankets if required
What is not included in this tour?
Items that are not included in the cost of tour price.
Transportation is not included in this tour, however if you wish, or plan on having a few drinks, we can provide a professional  PICK-UP / DROP-OFF service.
Towels
Liquors, beers and bottled beverages
Photography accessories like cameras etc.