New for 2022!  – Choose Your Boat
New for 2022! During the booking process, the system will offer you a choice of one of our premium boats from our fleet, Serendipity I, Serendipity II and a 28ft Harris Pontoon. If you have toured with us before then you most likely know Serendipity, our original boat is equipped with a full 3 piece bathroom and does most of the heavy work such as tubing and wakeboarding and they max out at 10 passengers. Serendipity II is basically the same boat just newer. The Harris pontoon is larger and fits more passengers at a maximum of 12, runs quieter oh, and she loves to party! You can learn more about these boats and see images on our INFO page.
How It Works
The whole thing is super easy even if you do not know the boats we mention. To start with, you want to know what tour you want to book then you can go onto the booking options. The first step is to "CHOOSE YOUR BOAT", we have (3) three boats in our fleet to choose from and two of them are almost identical and they are the Biltmore's named Serendipity I and Serendipity II. For simplicity when booking, we only use ONE name Serendipity, so if you want either of the two just choose Serendipity. 
Now, if you want to choose our Harris Pontoon, simply choose in the drop-down "Harris Pontoon" The easiest way to choose one is to look at the two main features that separate them…passenger capacity and facilities. There is a quick rundown below but first, let's finish off your booking. Next steps after choosing your boat you go onto passengers. If you chose Serendipity as your boat then the maximum number of passengers allowed is up to 10 total. The packages include 6 passengers at the initial cost so you can add up to (4) four additional extra passengers. If you have any children under the age of 7 they are free but are still counted in the overall total passenger count. After adding passengers you can go on to pick the date and time of your tour you prefer. If your requested time does not show up it either will be booked or not available and will have to pick another date/time. Once you have a date and time picked it will be confirmed to the left in bold with a total price. Move onto the options and finish your booking, any problems or don't see a time/day available or maybe something custom made, call us and we will do our best to help make it happen, now back to the main differences of our boats.
Serendipity – Capacity 10 – Considered an intimate boat, cozier and more comfortable with a nice bow area for 6. In the center is a gorgeous epoxy table with details of the Okanagan lake. The biggest difference is that Serendipity has a full 3 piece bathroom below deck. Serendipity I and II have much larger engines, they go much faster and are also used for all of our watersports like tubing and wakeboarding but at the cost of adding some extra noise from the additional horsepower.
Harris Pontoon – Capacity 13 – Harris LOVES to have a great time and is considered to be our "party boat"! Harris is larger allowing for more capacity allowing up to 13 passengers.  This allows you to spread out more and give you more legroom. Harris also has a big deck on the bow to jump off and a really cozy seating area beside the captain that's covered and has a table for stuff to put on like your phones and drinks. It has a smaller engine that's very quiet and because of this, it can only pull a two-man tube. The boat does not have full facilities but does have a porta potty for those emergency moments when needed. Harris is also considered to be our main cruiser boat and lastly, it has a FULL CANOPY WITH SIDES that completely enclose the boat, nice if the weather gets a little robust!
Now if you still can't decide what boat to take, we will be adding a feature to the dropdown list called "pick for me". This option will pick anything that's available. Below you will see images of them along with reminders of the qualities that separate them.
That's it, now go and pick your ride for the day, we guarantee you will have the time of your life with any of the boats we have!
---
BOAT 1    – 10 PASSENGER SERENDIPITY I 
FEATURES – FULL BATHROOM, FASTER, WAKEBOARDING, LARGE TUBES, NOISIER, VERY COMFORTABLE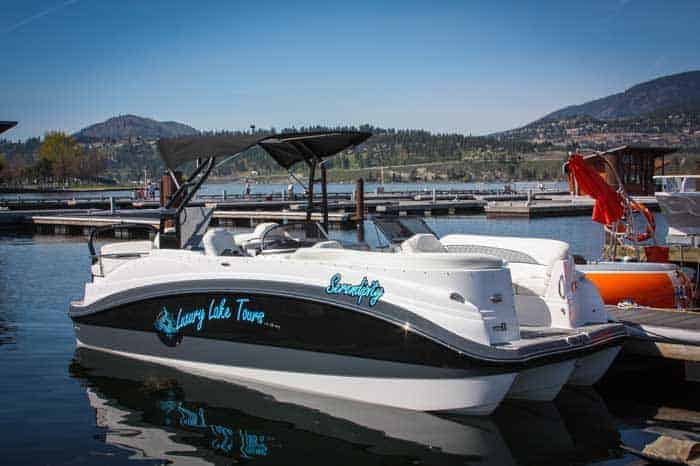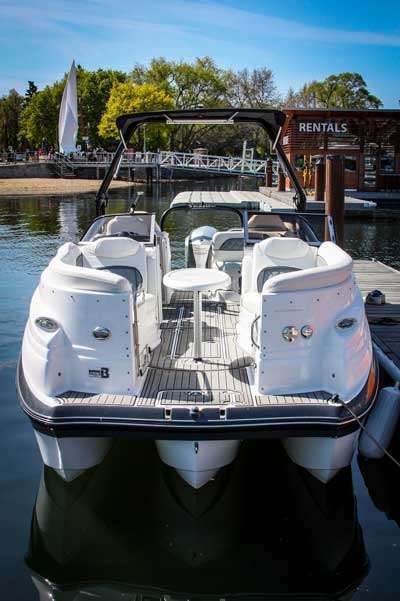 ---
BOAT 2    – 10 PASSENGER SERENDIPITY I I
FEATURES – FULL BATHROOM, FASTER, WAKEBOARDING, LARGE TUBES, NOISIER, VERY COMFORTABLE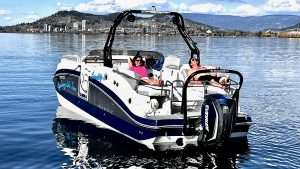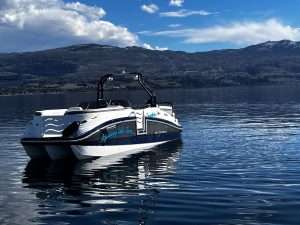 ---
BOAT 3.   – 13 PASSENGER HARRIS PONTOON IMAGES
FEATURES   –  NO BATHROOM (PORTA-POTTY), NO WAKEBOARDING, QUITTER, ROOMIER